Ship of Treasures
Every year, the Chicago Toy and Game Fair hosts a Young Inventor Challenge. One of the 2016 award winners was recently published, and I wrote a review of it for Games for Educators. [I don't publish that site anymore, but I still write for it]
Here's an excerpt of the review:
Ship of Treasures is an incredibly well-produced game of piracy for kids ages 8 and up. In it, players take the role of pirates searching a pirate ship for treasure.

Instead of using a traditional game board, Ship of Treasures includes a plastic grid of working plastic hatches, each with its own secret compartment. The box transforms into a pirate ship, and the treasures and cannonballs are hidden beneath the hatches.
Want to read more? Check out the full review at Games for Educators!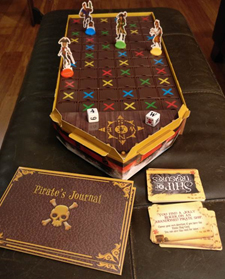 Want to comment? Post it on Twitter!
---